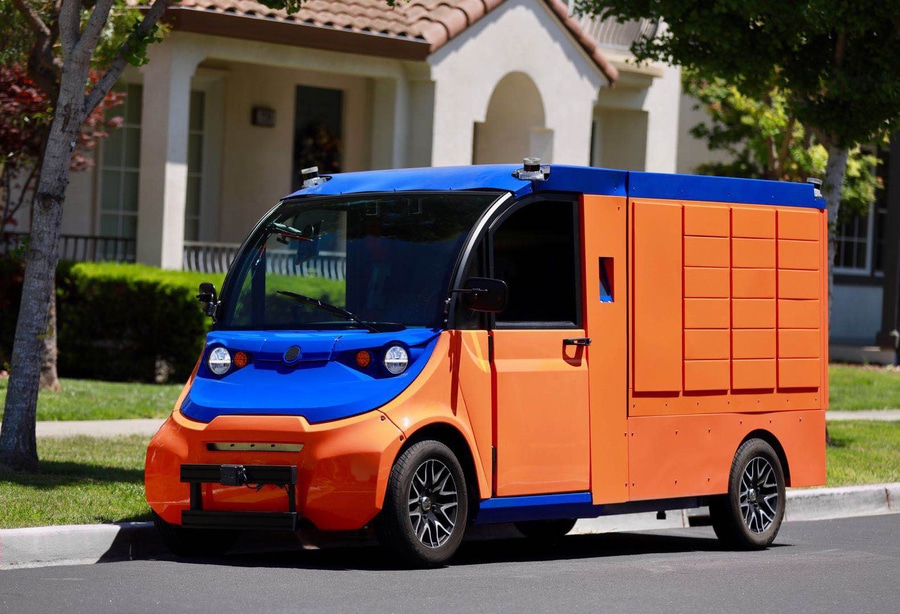 #

Transports: Automotive/ Aerospace
Boxbot Launches Last-Mile, Self-Driving Parcel Delivery System
Automated local hubs and street-level vehicles to deliver packages more safely.
Boxbot, a California startup founded by ex-Uber and Tesla engineers and backed by Toyota AI Ventures, this week announced a new last-mile delivery system for e-commerce packages and other shipments.
The system combines an automated local hub with a fleet of street-based delivery vehicles. The local hubs store and sort parcels before automatically loading them for delivery. Boxbot said it puts these hubs close to residential neighborhoods, making it more cost-effective for retailers to offer fast, low-cost shipping for next-day and same-day delivery.
The fleet includes two types of vehicles – parcel delivery vans, and self-driving electric vehicles designed to manage more complex and expensive deliveries, such as those that require a signature. The Boxbot vehicles can be loaded with packages throughout the day at the automated local hubs, the company said. By automating the process, Boxbot said its drivers can get more done in less time, without worrying about loading, organizing or finding packages within their vehicles."Boxbot is a new type of delivery company, focused completely on last-mile delivery," said Austin Oehlerking, Boxbot's co-founder and CEO. "By leveraging advanced technology, we can deliver a higher number of packages in less time and at a substantially lower cost per package. We're excited to unlock this potential with Boxbot."
The company also announced a partnership with parcel logistics company OnTrac, to test the self-driving parcel delivery in California. OnTrac specializes in logistics services through the western U.S., with a service area that includes more than 65 million consumers.People in the Boxbot service area can schedule deliveries at a time of their choosing, including evenings. The goal is to make deliveries more convenient for e-commerce customers, giving them options for planning delivery times and keeping packages safe. Boxbot said the system makes returning packages just as easy as it is to order them.
Hub and spoke system
The company said its system is built around the same hub-and-spoke model used in other shipping and delivery networks. Packages are routed to central distribution hubs before they are sent to outlying areas that connect to the hubs like the spokes of a bicycle wheel. Boxbot said it is applying that concept at a local level, placing the automated local hubs in locations closer to residents in the areas it serves."Automation is transforming virtually every aspect of the way packages are shipped and delivered to the end customer," said Mark Godwin, Boxbot's co-founder and CTO. "But the final step, when packages move from the hub to consumers' doorsteps, is still an entirely manual process. With Boxbot, automation is coming —finally— to the last mile."
A recent McKinsey & Co. report estimated that last-mile delivery costs amount to more than $86 billion a year. Boxbot said it would like to leverage automation to significantly reduce the costs of package deliveries, as well as eliminate "online shopping's morning-after headaches," which include missed deliveries, damaged shipments, stolen packages, and painful returns.